Fasteners & Tools
24-hour UK-wide call out service for customers
Fully guaranteed & fully insured
Fasteners & Tools Supplied by GVS UK
---
GVS (UK) stock a wide variety of mechanical joints and clips which can be supplied directly to its customers, or fitted out on site.
Flexco® Plate Fasteners
140mm, 190mm, Copper 140mm
Flexco® Bolt Solid Plate fasteners are engineered to meet the demands of the toughest material handling applications, providing a strong sift-free splice and superior holding ability. A choice of sizes accommodates belts from 3/16″ (5 mm) to over 15/16″ (24 mm) thick.
High strength is the result of superior design and plate compression on both the top and bottom sides of the belt. High tensile strength bolts compress top and bottom plates to distribute splice tension evenly across the entire width of each fastener plate. For added strength and pull-out resistance, specially formed teeth penetrate deep into the belt carcass – without damaging carcass fibers.
Flexco® R2 / R5
The Flexco® SR™ Scalloped Edge™ fastener features a low profile that significantly reduces the fastener's exposure to cleaner blades, skirt rubber, and return idlers. Reduced wear and tear on the fastener extends the life of the splice to maximize belt availability and to help keep productivity on a roll.
Designed for rubber plied and PVC solid woven belting, and for worn belts unfit for vulcanized splices, the Flexco SR fastener features a patented Scalloped Edge design. The scalloped design contributes to improved fastener profile resulting in increased compatibility with belt cleaners and improved cleaner-tip wear. The staggered rivet pattern also provides maximum holding ability by allowing the rivets to pass between the carcass fibers without damaging them.
Other Tools
Belt Punches
Belt Punches or Boring Bits are used to punch holes through the belt. A punch is preferred for general use where belt cover is over 3/16″ (5mm) thick.
Tighteners
Power Wrenches and Wrenches, designed to be used in a carpenter's brace, are used to tighten the nuts of the bolt fasteners. These wrenches are the best, easiest and quickest way of tightening down nuts on plate fasteners.
All types of clips and clipping products can be supplied and/or fitted on site.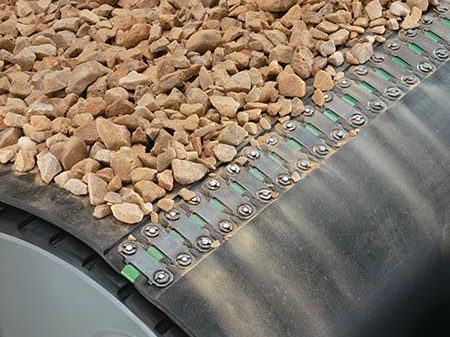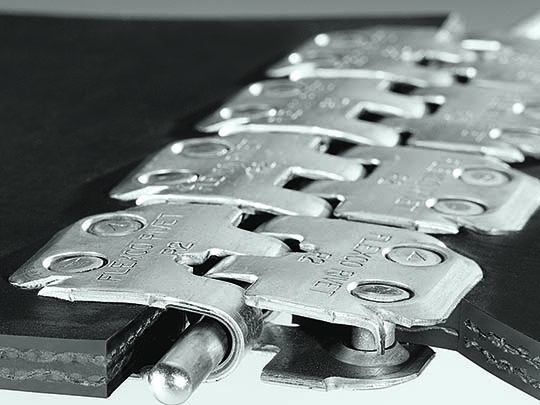 Why Choose Us
Vulcanising Guaranteed on new and secondhand conveyor belting
---
All tools and machinery are fully inspected and PAT tested regularly
---
All types of conveyor belting supplied and fitted
---
Specialising in mobile screens, crushers and recycling equipment
---
All work is fully guaranteed, fully insured and carried out by highly trained and competent fitters
CALL US TODAY ON
01246 456 111
Our engineers regularly work on sites throughout Derbyshire and Yorkshire.
For more information about the products and services we offer please call GVS (UK) on: 01246 456111
"The team at GVS (UK) are friendly, efficient and professional. They have a very strong knowledge of the industry and are always able to provide us with the reliable service we need. We are confident that we can rely on GVS if we have any queries or issues to resolve."
Transwaste Recycling and Aggregates, Melton